Disposable Circular Brushes
Brooksbank Industries Ltd introduce a new, highly efficient and cost effective range of disposable gill brushes specifically designed for the NSC GC 12 – 15 range of gilling machines (both 270mm and 220mm widths) and also the new NSC GB20 gill.
The brushes for the NSC GC gills are bristled with 0.4mm white nylon, whilst the brush for the 'ERA' gill is bristled with top quality hog bristle – as recommended by NSC themselves.
All brushes have a barrel made from highly durable reinforced plastic which is recyclable, and the brush for the GB20 gill has stainless steel pivots.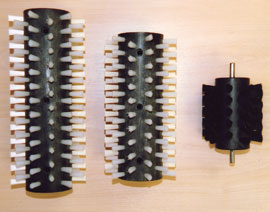 How to Order
Please use our Worldwide Agents page to find your nearest stockist
Call Brooksbank Industries on +44 (0)1282 444610 or use our online enquiry form to send us your message
Station Yard, Elslack, Skipton, North Yorkshire BD23 3AS, England
Tel: +44 (0)1282 444610
E-mail:
sales@brooksbank.com
Registered in England & Wales: Reg. No. 1365964
VAT No. 303454786